Blog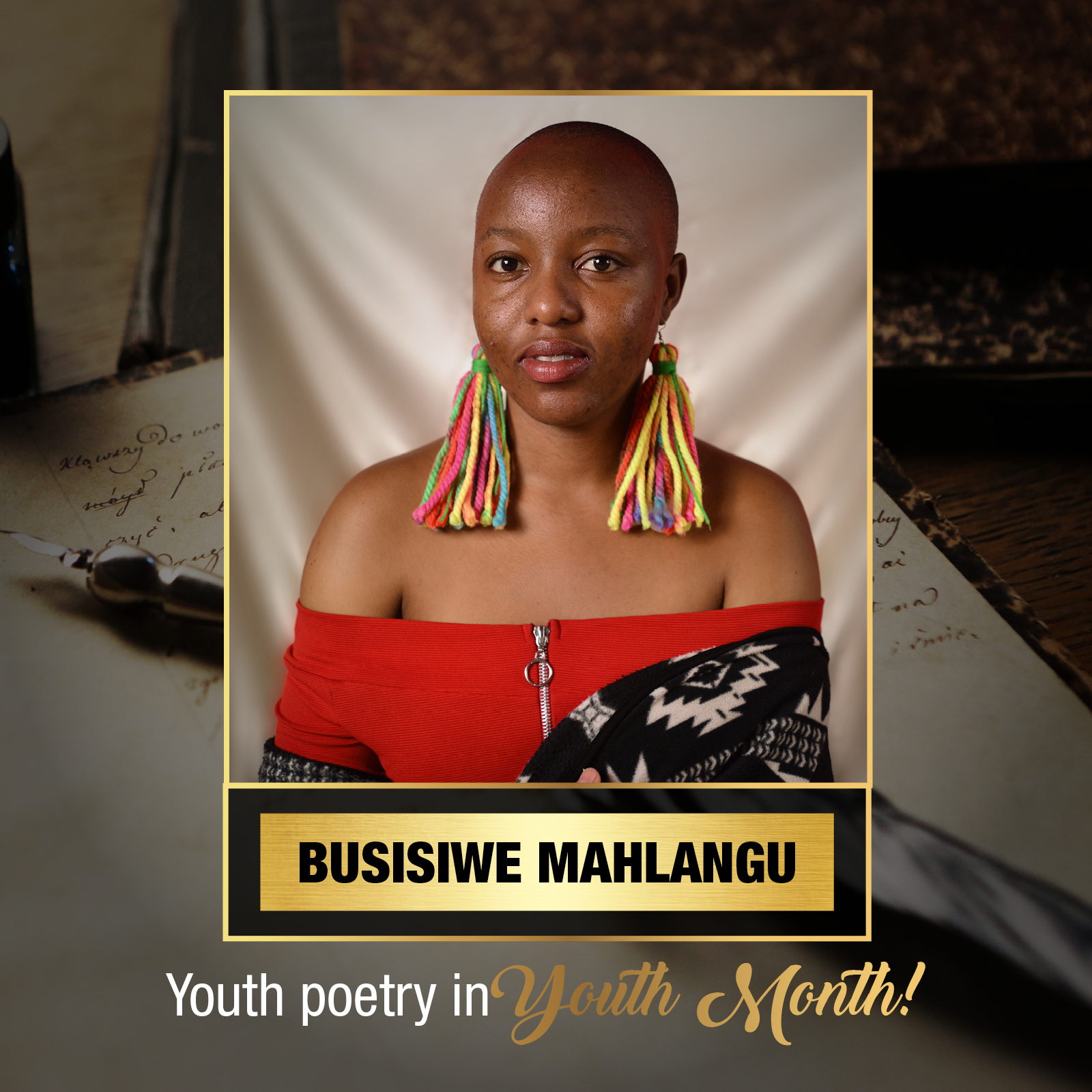 Making a Home with Poetry – Youth Poet Busisiwe Mahlangu 

Mon, 13 June 2022
In Youth Month, the AVBOB Poetry Project celebrates how young poets find their voices in an increasingly stressful world. Poets like Busisiwe Mahlangu must often navigate mental health challenges and the inherent difficulty in speaking about them. Creating a platform for such brave voices has been a cornerstone of the AVBOB Poetry Project from the very beginning.
Busisiwe Mahlangu is a young writer, poet and activist from Mamelodi, Tshwane. Her debut collection,
Surviving Loss
(Impepho Press, 2018), gives fearless expression to the trauma so many of us carry silently.
Busisiwe, who is a memorable performer of her own work, had this to say about the effect her words have on others, "I usually write about things I cannot openly talk about. In some instances, people from the audience let me know how they relate to my work. But what shocks me is hearing loved ones say they see themselves in my poetry, which helps them feel better."
Busisiwe founded the Lwazilubanzi Project, an NPO working to promote learning, resistance and healing from trauma. Crucially, what needs to be resisted is silence itself. Describing her experience of sharing poems with loved ones, she adds, "This became the start of conversations around depression and anxiety in my community of friends and family. It wasn't a taboo or unusual subject anymore…"
Very often, she explains, it is only poetry that can name the big wind that threatens to blow the house down. "Writing gave me language to name what I did not understand. Long before I was writing about depression, I was trying to understand my experience. Writing has been a huge part of my healing. Although I understand that healing requires more than writing, poetry has been a tool that lights the path in difficult times. I believe in the power of words – in their ability to restore what is lost through language."
In one of her most moving poems, "This Is Yours", Busisiwe embodies poetry's ability to name the most difficult, extreme mental states while simultaneously offering hope and consolation:
This is yours
This is how you return to yourself
This is your reflection on the glass
These are parts that broke but are still here
This is the collapse and the rebuilding
In another poem, after asking whether it is possible to tell the destructive wind to "go back", she immediately adds "maybe we prepare better for the current…"
Busisiwe's work has been described as hard hitting, and it has struck a resonant chord with many. She is the winner of the 2017 Tshwane Speak Out Loud Youth Poetry Competition. The prize money made it possible for her to enrol in a BA in Creative Writing at Unisa and also gave her the opportunity to travel to Sweden and the USA to share her work. In 2020, she won the SA New Contrast Poetry Prize and the NLSA Poetry Slam. She was recently chosen to attend a residency through the JIAS Writers' Workshop.
She offers wise advise about poetry contests, "Competitions like the
AVBOB
Poetry Competition are both uplifting and challenging. The most important part of entering is understanding that the outcome doesn't always reflect the value of your work. Once you make peace with the disappointment of not winning a prize or getting published, you end up being brave enough to enter again."
The sixth AVBOB Poetry Competition opens on 1 August and young poets (and the young at heart!) are invited to send in their poems of comfort and consolation. Register to enter your poems here:
www.avbobpoetry.co.za
Share: