Blog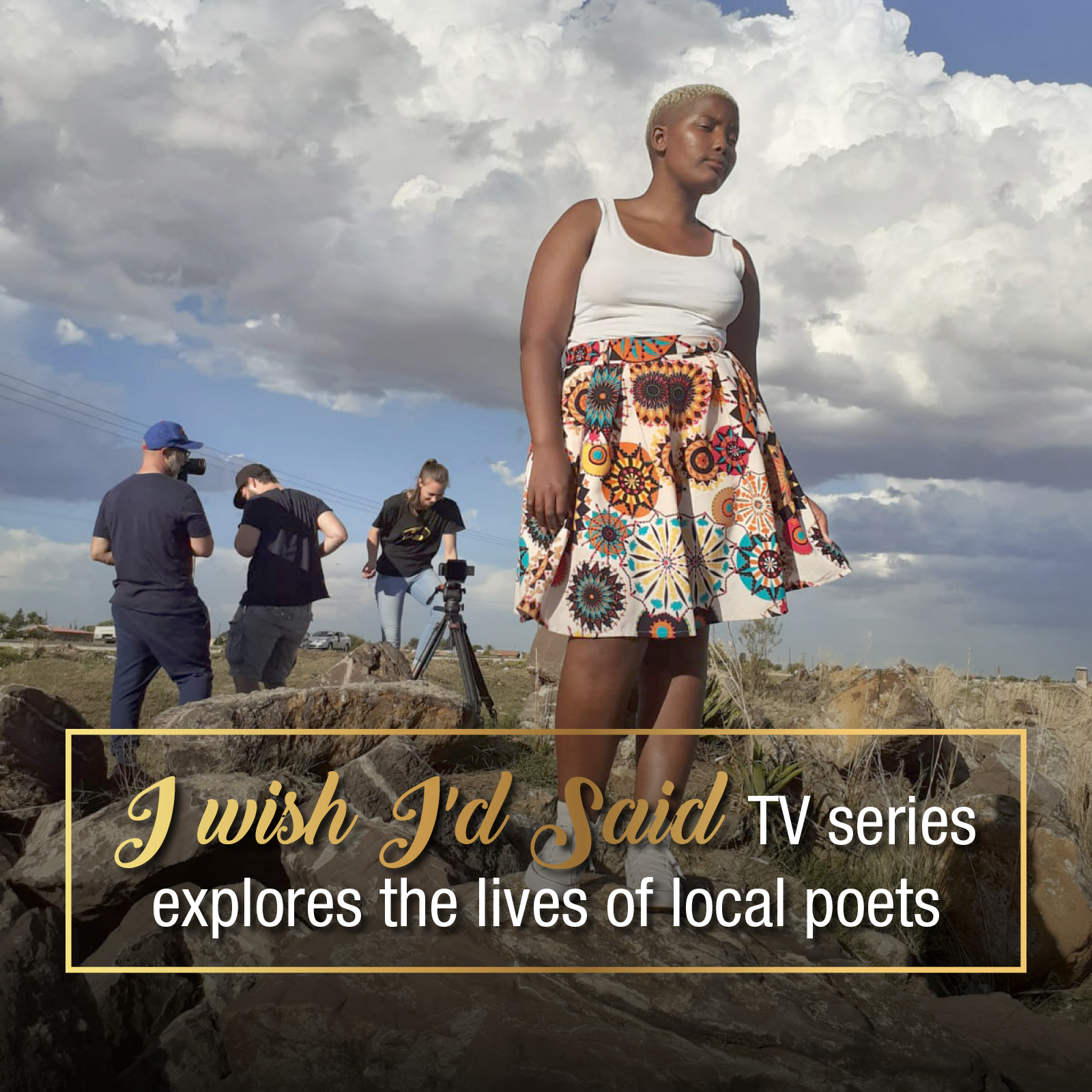 "To learn how to speak with the voices of the land" – I Wish I'd Said television series explores the inner lives of local poets in all 11 languages.

Mon, 01 June 2020
Poetry, we know, always had its roots in performance, in presence, in people. The poet always had a powerful role in society – a prophet and a praise singer, a troubadour and a truth-teller, an astounding amalgam of vision and verse. Poets still have the power to hold a mirror up to society, to say the unsayable. In I Wish I'd Said, a 13-part television series that is an offshoot of the AVBOB Poetry Project, 13 poets speak their truth – in their own mother tongues.

Launching on SABC 2 in early June, a polyphonic television series like this is unprecedented – and is as unique as the AVBOB Poetry Competition itself. Since its launch on Mandela Day in 2017, over 80 000 poems have been entered in the competition in all 11 official languages, over 10 000 poems have been published on the online platform – as a free bereavement resource for all South Africans – and a community of more than 18 000 local poets, aged between 8 and 80, has been created. It's become a space of comfort and catharsis for all South Africans.

But what's even more remarkable than this polylingual platform are the poets behind the winning poems – from a princess to a power utility worker to a poultry farmer, from a security guard to a schoolteacher, from a university lecturer to a crèche caregiver. Our local poets have singular stories to tell, and their stories come from Verdwaal and Ficksburg, from Gemsbokspruit and Ga Matlala, from Soweto and the sleepy university town of Stellenbosch.

Poetry seems to cut across geographical and cultural borderlines, and the IWIS production crew found themselves road-tripping across our remarkable land. Says executive producer Lizette Khan, "to construct each episode, multiple journeys were often needed. For example, Nokukhanya Mahlalela, our Swati Princess, was studying in Stellenbosch, but she lives with her mother just outside Nelspruit, and her father's royal compound is in Mbuzini near Komatipoort. A journey of almost 3000 kilometres was necessary to film her episode."

The dedicated research, writing, directing and production team filmed 13 episodes in 40 days, visiting over 30 cities and covering a distance of 11 000 kilometres. And they were transformed in the process. Zamo Mkhwanazi, Mpolokeng Chabane, Katleho Sekhoto, Lizette Khan and Justin Strydom all felt as if they were on an odyssey into the soul of South Africa, unravelling the knotted cords of love, loss, language and landscape.

Says Zamo Mkhwanazi, "we met 13 poets, from wealthy entrepreneurs to people on the brink of poverty, who generously revealed the hidden meaning in their winning poems. What resulted is a show that cannot avoid the painful inequality that exists in our land, nor should it, because it is this inequality that gives the human experience – recorded in these poems – its texture, its meaning, and ultimately its value."

Each poet was prepared to gaze into the camera eye and reveal not just the lines of their poems, but the lines of their lives. And these real and raw revelations and disclosures were exquisitely framed by director of photography Phumelani Mdlalose and his cinematography team, who drew on the stirring, shape-shifting SA landscape.

Part documentary, part voyage of discovery, the show's uniqueness and power lie in the mosaic of voices mapped out across the miles. As AVBOB Poetry editor-in-chief Johann de Lange puts it, "language has always been closely entwined with our human story. Poetry tracks our movements on this wild and beautiful piece of space rock; words follow our nomadic meanderings and tell our histories."

I Wish I'd Said is a journey into the South African psyche, and the talented post-production team of BRAND et al gave textured expression to this through a visual patchwork that mirrors our many languages: English, isiXhosa, Sepedi,
Tshivenḓa, Xitsonga, isiZulu, Setswana, isiNdebele, Afrikaans, Sesotho, and Siswati.

The show – a celebration of the richness of South Africa and a collective praise poem of hope and healing – airs from 6 June on SABC 2 on Saturday afternoons from 14:00-14:30, and the poets to be profiled in the 13 episodes are:

Episode 1: Tieho Mkhendane (2017 AVBOB Poetry Prize Sesotho)
Episode 2: Nokukhanya Mahlalela (2018 AVBOB Poetry Prize Siswati)
Episode 3: Kutsi Emmanuel Lindinkosi Mpanza (2017 AVBOB Poetry Prize isiZulu)
Episode 4: Kgabo Sebatjane (2018 AVBOB Poetry Prize Sepedi)
Episode 5: Tom Dreyer (2018 AVBOB Poetry Prize Afrikaans)
Episode 6: Nthabiseng Cujane (2017 AVBOB Poetry Prize Setswana)
Episode 7: Kedibone Mphethi (2019 AVBOB 'What if, South Africa' Prize English)
Episode 8: Patrick Khosa (2018 AVBOB Poetry Prize Xitsonga)
Episode 9: Lynthia Julius (2017 AVBOB Poetry Prize Afrikaans)
Episode 10: Mfana Solomon Skhosana (2018 AVBOB Poetry Prize isiNdebele)
Episode 11: Simphiwe Nolutshungu (2018 AVBOB Poetry Prize isiXhosa)
Episode 12: Caroline F Archer (2017 AVBOB Poetry Prize English)
Episode 13: Maṱodzi Magoro (2018 AVBOB Poetry Prize Tshivenda)

I Wish I'd Said perfectly captures the inner worlds of our poets, and interrogates the most personal interstices of the human heart. As 2017 English prizewinner Caroline F Archer reminds us: "Writing heals. At the base of South Africa's 11 official languages is rhythm. We hear the drumbeat. It sustains us. To understand the soul of a people, we listen to their poetry."

The 2020 AVBOB Poetry Competition opens on 1 August and runs until 30 November 2020. Winners of the 2019 AVBOB Poetry Competition will be announced in August 2020. To find out more, or to enter this year's competition, visit
www.avbobpoetry.co.za
and follow the AVBOB Poetry social platforms.
Share: