Blog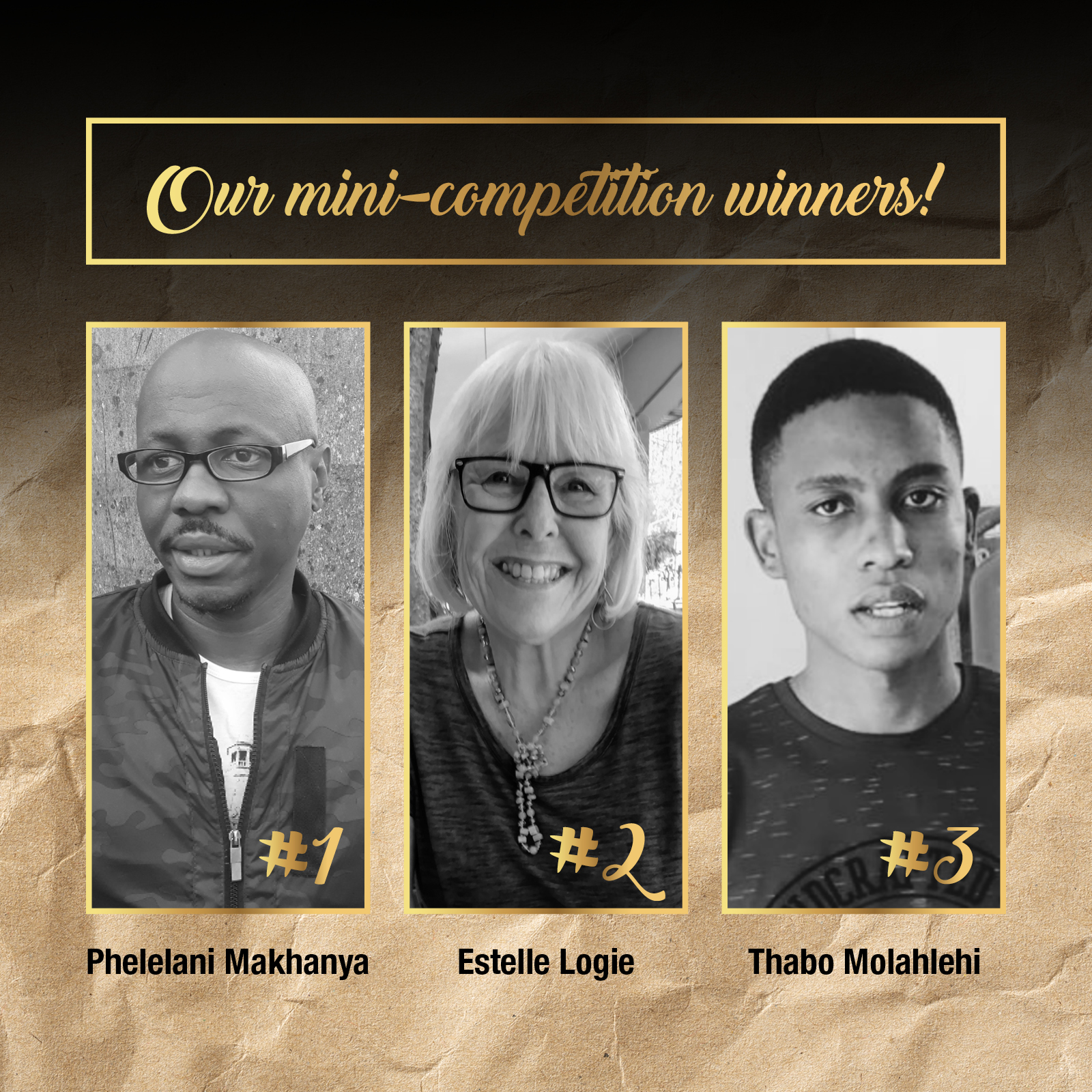 A song for survivors: Poems of comfort marking a year of lockdown

Tue, 11 May 2021
In March, the AVBOB Poetry Project invited South African poets to reflect on one year of life under lockdown, through a competition on social media. Here we announce the winning poets and profile their thought-provoking poetry.
First-prize winner:
Phelelani Makhanya
Cash prize: R1 000
Second-prize winner:
Estelle Logie
Cash prize: R700
Third-prize winner:
Thabo Molahlehi
Cash prize: R300

When lockdown commenced last March, people worldwide experienced incomparable trauma and tragedy. Feeling powerless and stuck, some did sit-ups to assuage the nicotine withdrawals! Others sang from doorways to honour the medics risking all. People prayed that the experts knew what was going on, that somebody competent was in charge! Everyone everywhere needed comfort and hope.

The AVBOB Poetry Project responded by encouraging ordinary folk to turn to poetry to process their losses. Three mini-competitions took shape, offering a way to focus in those early months on creative endeavours promoting hope. Initially, we sought poems of comfort in the time of COVID-19. On May Day we focused on the workers risking their lives to keep us alive. Lastly, we invited young poets (18 years and under) to speak to other children.
This year, on 26 March, we opened our fourth mini-competition via social media. We asked for
A poem of reflection on one year in lockdown
and, true to form, a surge of terrific poems arrived. These works gave voice to the most personal expressions of loss and sorrow, lament and survival.
Cinquains
and sonnets came through the mail trying to make sense of enforced solitude. Elegies and epitaphs remembered loved ones lost, grieving inadequate farewells. Poems arrived as free verse and found forms, exploring the interweaving of faith and fear, friendship and family.

First-place winner, Phelelani Makhanya, is a writer and entrepreneur in Kwa-Maphumulo village, KZN. A seasoned poet with two published poetry collections under his belt, he runs a medical/surgical and general supplies business. Phelelani has appeared at Poetry Africa and his work has been widely published in literary journals and in the AVBOB Poetry Library.

"AVBOB has become a major driver promoting South African poetry," says Phelelani, whose poem 'Vapour' uses a boy to symbolise the many struggling households who lost breadwinners to COVID-19.

Vapour

There is a young village boy,
since he lost both his
grandparents due to Covid-19,
his sightings are rare,
like a ground hornbill.
He is not with the other
village boys on the slope
of the weedy soccer field.
He is not with the boys
swimming in the murky Ququda pond.

When he eventually appears,
the tweets of the village birds
suddenly transform into a distress call.
He walks down the red pathway
like a chameleon crossing the highway,
his clothes camouflaged
with the colour of gravel.

He carries his late grandmother's
blue plastic bowl,
to put donated rice or sugar or mealie meal…
When villagers see him
approaching from a distance,
they shout a coded signal
to their neighbours.

They run inside their houses,
they close the doors and windows
like a storm is approaching.
Then the entire village
turns into vapour.

Second-place winner, Estelle Logie, lives and works as an artist in Centurion. "Poetry is an extension of my paint brush," she explains. "It depicts my immediate emotions. I don't approach poetry intellectually, but surprisingly it can become that." Estelle has written poetry all her life, "expressing myself mostly for myself." She describes her lockdown longing as "a yearning heart to reconnect with my son, continents away, yearning for wide open spaces and missing visual, physical and emotional interaction." Her poem is a prayer. She says, "I dreamed of blue skies and yellow fields, then painted them and scribbled this poem on the back of the canvas."

Periwinkle Blue

Tonight, O Lord, give me dreams of periwinkle blue
with shadows of washed-out cobalt
in contrast with pristine snow
My heart hangs low with talk of death
and flattening of a curve, the name of a fallen crown
Pick me up in my dream and fill again my heart
with hope
of fields laden in gold
Take me back to a time where my children played
on lawns of green and perfume of apples filled the air
when hopes ran high and the future was bright
Give me a periwinkle blue
with a touch of sunshine, shining through.

Third-place winner, Thabo Molahlehi, is an engineering student from Letlhabile, North West. "Poetry is both an outlet and an opportunity to experience the healing power of words. My aim is to inspire and heal people," he said.

Thabo reflected on the initial stages of lockdown, when people were losing their loved ones, in particular, the elderly: "I saw how dire the situation was and how uncertain we were, knowing so little about the virus. In the poem, I reminisced about the good times we took for granted right before the race against time, the race for vaccines yet to kick off. I ended the poem by asking an open question that only time can answer."

Time

I remember a time
When 'Bless you'
Still accompanied every sneeze
A time when hugs still had
Enough warmth to mend hearts
A time before a single cough
Was enough to silence a room
A time when winter meant
Sitting around a fire,
Listening to our grandparents
Relive their memories.
I remember this time
Like it was yesterday,
Right before time stood still,
Right before the world caved in,
Right before the questions began.
Since time holds all answers
So close to its fragile chest,
I can only ask:
Who will be there
To recite our roots to us
When the wind keeps blowing
Our vulnerable trees of wisdom away?

These three poems offer a testament to the courage and candour that abounds in the communal experience, and in the imagination of the country's poets. The poems remind us that resilience grows under duress and compassion helps us emerge stronger together.

The poets reiterate that our interconnectedness helps us endure through anxiety and anguish, no matter our standing in society.

The 2021 AVBOB Poetry Competition opens again on 1 August and offers cash prizes of R10 000 in each language category. Visit www.avbobpoetry.co.za for information on how to participate.

Share: