Blog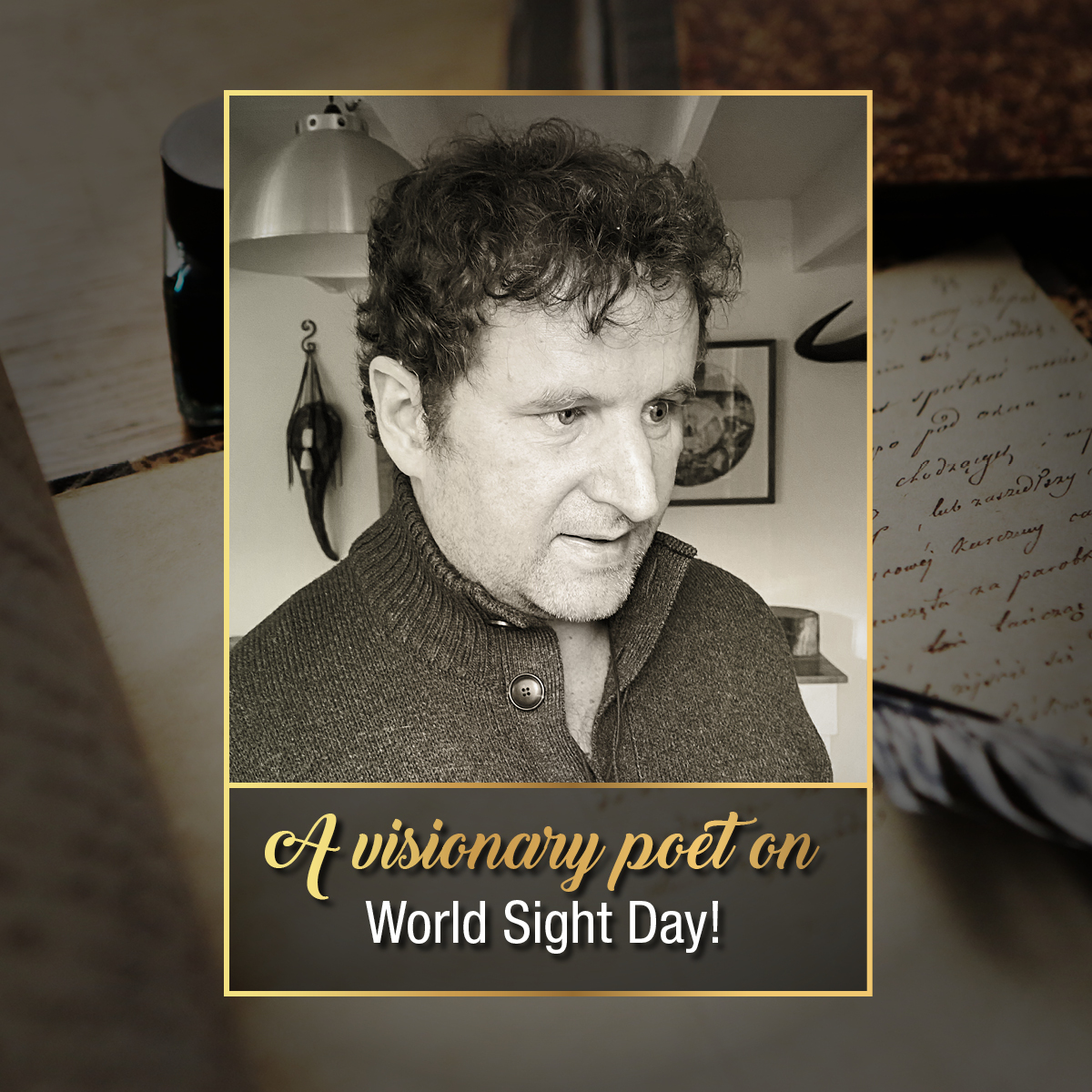 What the poet sees – insights from Jacques Coetzee on World Sight Day

Wed, 13 October 2021
World Sight Day (14 October) [1] offers poetry lovers the chance to become familiar with the remarkable poet Jacques Coetzee, who won the Afrikaans category of the 2020 AVBOB Poetry Competition and published his poetry debut 'An Illuminated Darkness' with uHlanga Press. The collection also appeared in Braille with

Blind SA

making it available online for print-disabled readers. Additionally, it is available as an

audio book online

.
Jacques is a singer-songwriter in the band,
Red Earth & Rust
, and his classical voice training and musicianship underpin the structure, lyricism and sonority of his work. The poems are a searing exploration of life as a blind person – in places grateful and joyful, in places erotic and sensual, the poet has a wry, sly view of the world that is occasionally biting, often hilarious and inevitably tender.
The cover of
An Illuminated Darkness
is plain white, with the title and the author's name in a stark black font. Additionally, the title is embossed in braille. For most, this will be their first encounter with the tactile experience of braille.
Jacques said, "Readers may tend to be more aware of the disability angle when encountering my poems than I was when writing them, and that's fine with me. Some readers have said it helped them to challenge their stereotypes about disability. You know, we're supposed to be nicer than most people. I'm very happy if my poems can help clear up such confusions."
"In the poem 'The Steps' I revisit an adolescent version of myself who is trying to escape into other worlds by reading. Braille books are heavy, unwieldy things and I would carry them to places where I could be alone, and just lose myself in them. So I started imagining that fourteen-year-old version of me, and what it might have been like for him to discover a book of poems, in Braille, charting ways out of the labyrinth—and back in again, of course. I like to think of the Braille book as a kind of coded message, waiting to be found by the right person. Maybe all books are like that?"
Jacques is an active member of the South African poetry community, promoting, organising and participating in poetry events and festivals. Pre-COVID he co-hosted the weekly Off the Wall poetry series, and in February this year co-launched the weekly online readings of the
Red Wheelbarrow Poetry Group
.
The AVBOB Poetry Competition prompted him to experiment in Afrikaans, his mother tongue. "A phrase by the poet, Boerneef, haunted me for years...
Doepa vir allenigheid
which translates as medicine for loneliness. When my cousin Johnny was murdered last year, I sensed a connection between his life and that phrase. I've been writing in Afrikaans more often since winning the competition. I wonder if I'll say different things writing in my first language… I'll have to wait and see."
In 'Mirrors' the poet looks back at his 25-year-old self and explores his own mental health and concept of self.
MIRRORS
I thought I could keep my mind steady
because I had escaped the despair of mirrors:
never having to confront
my own face, my share
of the incompleteness
of any solitary naked body.
What could be sweeter than such ignorance?
But everything I touch or listen to,
every line of every poem, every chord of the song
throws back some image of me:
private, visceral, and touched
by compassion, as if for someone else.
Today, on Kerouac's crooked road
across a vast continent,
I saw myself again at twenty-five;
not as I was then,
but as I wanted to be when I first read it:
one of the young men on the flatbed truck,
racing across state lines; a man
who could unhook himself from his own past,
from his fierce shadow at noon,
from the faces he sensed
in the mind's terrifying mirrors
that only he could see.
"Reading and writing poetry enable me to step into something larger than myself, offering me a place where I can reimagine my own story, and tell it differently. But it also makes me feel part of a conversation reaching back thousands of years. You feel less alone with access to that. I feel it when I sing too, by the way—I feel it especially then, so I always try to achieve something like song in my poems. If I have a spiritual practice, it's embodied in writing poetry and singing. When I don't want to do these things, it's a sure sign that something is wrong, that some conversation has to be deepened and changed."
The AVBOB Poetry Project invites all poets to become part of the conversation that is deepening and changing literary life in all 11 official languages in South Africa. Register and enter online before 30 November at www.avbobpoetry.co.za!
---
[1] World Sight Day focuses global attention on vision impairment, including blindness. This year, the theme for World Sight Day is Love Your Eyes. Globally, at least 1 billion people have near- or distance-vision impairment that could be prevented or has yet to be addressed. Vision impairment affects people of all ages, with the majority being over the age of 50." - Source:

World Health Organization (WHO)

"
Share: