Blog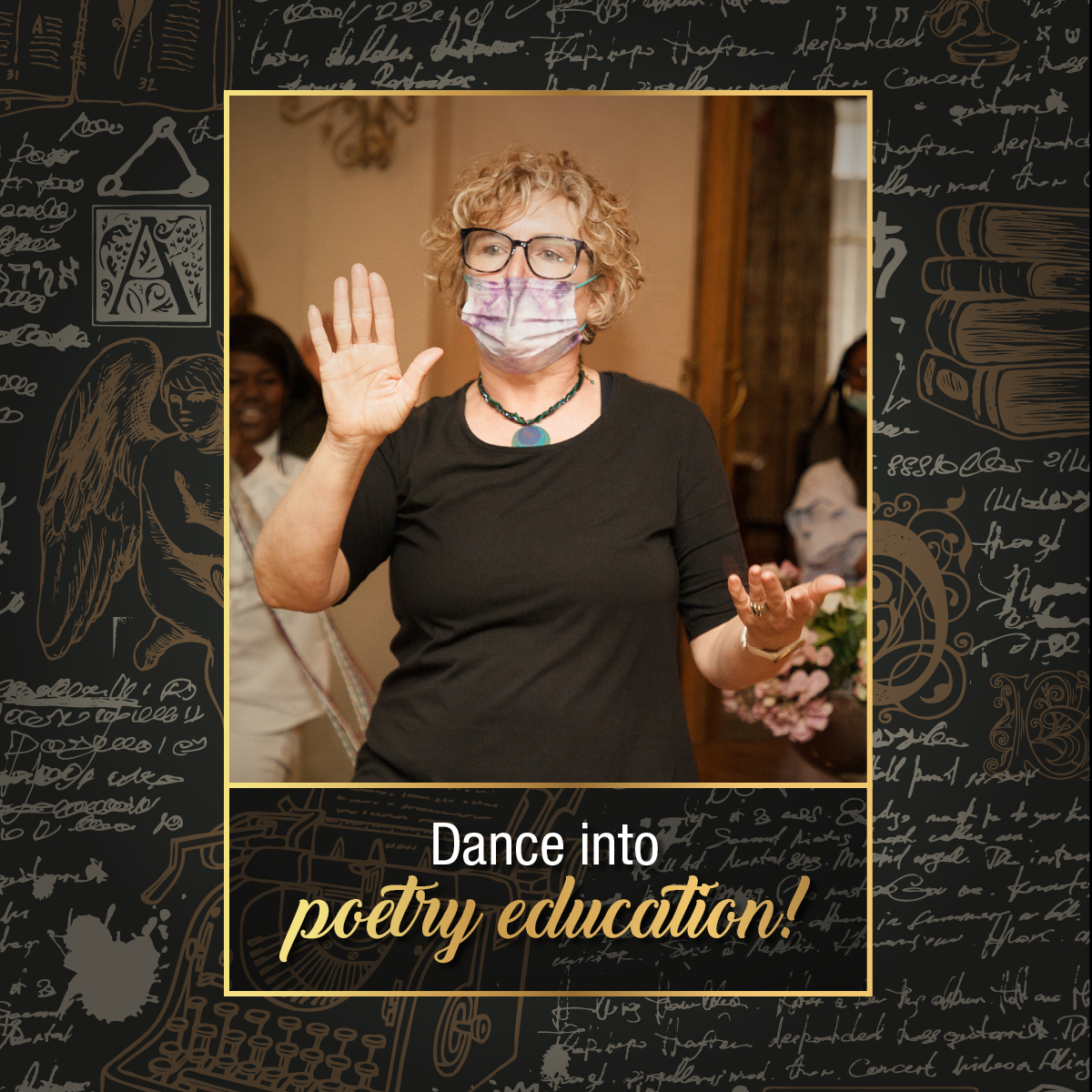 Dancing on the bridge – Melina Smit empowers educators with poetry | 2022

Mon, 10 January 2022
Most South African learners will have returned to class by 24 January, the day the world recognises as
International Day of Education
. In a bid to assist educators go back-to-school with a measure of excitement, the AVBOB Poetry Project features innovative educator, Melina Smit.
In the spirit of the new year, Melina Smit discusses the rich vein of educational opportunities that are ripe for the picking. Melina is a Senior Education Specialist for Curriculum Management and Support in the Eastern Cape Department of Education, Chris Hani West region. Her input is particularly useful for teachers of the creative arts and life skills, and for the wider audience comprising students of life and poetry.
Melina's original approach to empowering educators in remote Eastern Cape towns is inspiring and effective. "If you want kids to do better in every academic area, give them more arts education," she says. "Creative thinking has wide practical applications. It's a life skill, not merely a 'school subject', and poetry is a terrific vehicle for integrating multiple curricular requirements with a spirit of fun and self-discovery as we learn to communicate."
Her methodology, which is covered in 21 practical and helpful videos created to date, offers real footholds for overcoming some of the challenges posed by COVID-19. This valuable resource aligns with the United Nations goal of placing "education and lifelong learning at the centre of the recovery and the transformation towards more inclusive, safe and sustainable societies." It's not just for teachers. It's for anyone interested in learning about their own creative process.
Learning should rightfully be a lifelong endeavour for all, and learning about poetry is an enriching experience from cradle to grave. Parents sing nursery rhymes to their children long before they attend kindergarten, and learning can extend beyond the classroom or lecture hall, enriching our human experience right to the end of life. In the 2020
AVBOB
Poetry Competition, entrants ranged in age from nine to 87.
COVID-19 restrictions impact teachers from nursery to tertiary level, creating additional challenges to effective learning. The loss of learning due to the 2020 lockdowns requires unusual approaches to educational recovery. For some, the two-dimensional experience of digital tuition was beneficial. Online workshops, readings, seminars and self-study programmes proved helpful. For the majority of South Africans, data costs and the unavailability of devices kept them out of the loop.
Melina grapples with an important question: "When fundamental literacy and numeracy are at stake, how does poetry fit into an already pressured teacher's schedule? It's vital to develop communication as a core life skill. We must promote a culture of creativity and literacy in our personal lives and communities alike to be able to express ourselves and communicate our needs," she continues. "Poetry matters now, and it's our job as educators to find the best ways to bring it into our classrooms. For adults who no longer study it in the formal classroom, poetry is a great addition to our daily lives. Poetry is a bridge over which we dance to access the most difficult emotions, to express the feelings and sensibilities that would otherwise remain locked away, and to achieve the thing we most want to do."
Melina cites research that shows how creative activity changes the brain, "Magnetic Resonance Imaging (MRI) studies show that poetry improves memory and encourages us to reflect. Poetry stirs the imagination and helps us read for meaning. It also opens channels of empathy and fellow feeling as we think about what is written between the lines or left unsaid. Like listening to music, poetry triggers an emotional response that builds emotional intelligence."
Having fun is key to Melina's teaching methodology. She encourages the use of games that bypass conventional logic and help one access language, learn new vocabulary, enhance meaning and set context. Melina advocates for the "brain break" – a short focus on poetry that resets the thought patterns. Following an intensive maths class, jump in with a quick limerick or haiku. Use hand signals. Examine the world from another perspective for two minutes and then return to business as usual.
"Poetry is a means of accessing our inner truth in a therapeutic way. Before you start a new section of work, make an honest connection to your learners' inner world. This is a phenomenal tool for connecting to learners," Melina says. "Finding unconventional ways to integrate learning is key. Move! Dance! Ask your class to write a poem in the shape of a star or a flower, a bird or a fish. Think outside the box. Make new associations. Poetry is full of surprises. Keep it quick and light. Don't overthink it."
In a recent workshop for educators, Melina instructed: "Dive into a newspaper, menu, instruction manual or handbook. Quickly find the phrases that carry weight. Then structure your lines and suddenly, you have a poem!" Cradock Primary School educator, Amori Kroucamp, found these delicious words in a gardening magazine.
Watching sweet plums
Behold…
the season is here.
Not aware
of just how tempting
your hands
say the words.
In support of all educators the
AVBOB
Poetry Project has made the series of videos available as a teaching tool for free. Watch the videos here:
https://bit.ly/SKWFpoetry
Additionally, the
AVBOB
Poetry Library offers poems of comfort and consolation on the themes of love, hope, birth and death in all 11 official languages here:
https://www.avbobpoetry.co.za/Poem/ViewAll
Share: