Blog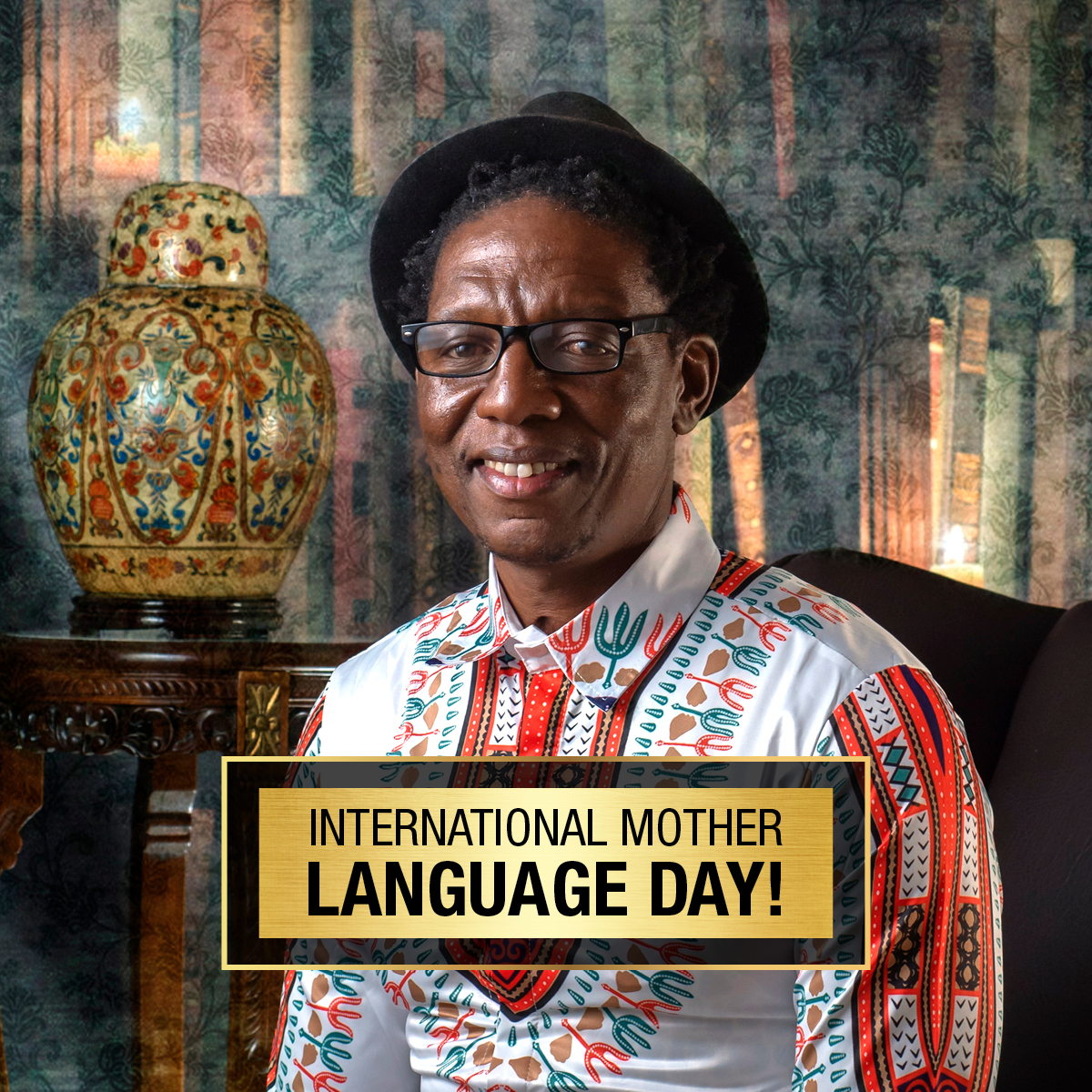 The Language of Dreams: A look at indigenous poetry with Goodenough Mashego

Wed, 16 February 2022
"When dogs bark and birds sing, they are using their mother tongue… So too, people need to speak their mother language!" says Goodenough Gakwi Mashego on International Mother Language Day (21 February). As Sepedi editor of The AVBOB Poetry Competition, he shares his insights on the value and importance of writing in the vernacular.
Mashego is a journalist, film-maker and poet, contributing to the South African poetry scene as performer, translator, editor, publisher, teacher, coach, commentator and literary adjudicator. He encourages new poets to write in their home language to reinforce and promote their own heritage and identity and to sustain a guiding connection with their tradition.
He sets a context for the importance of bards and griots writing in the vernacular: "They are carrying the hopes and aspirations of their communities as well as their ancestors. Many indigenous language poets start their recitation with an introduction evoking the ancestral spirits because poetry brings words alive; words from the past that mould and express their implicit and explicit meaning in the contemporary space and time. The African poetic tradition is an oral one, connecting people beyond the borders of its motherland."
Poetry creates a bridge from the past to the present, lengthening into the future. "If you look deep into your ancestry to realise the work that went into inventing your language and if you love where you come from, you will naturally be curious about your future. You will then want to participate in it, because your language's future lies in how you use it today," he says.
"Poets writing in their mother tongue need an intrinsic knowledge of their chosen linguistic medium – its inventions, conventions, syntax, idioms and expressions. They need to understand how its words form, and why its inventors used those sounds and descriptions to form words," he continues.
"They will then discover the scientific beauty of those languages and can move from being end-users of an invented medium of communication to participating in its further development. What better way to develop a language than by using a literary genre that comes with a licence? In many African languages the deliberate use of proverbs is highly idiomatic and their usage serves poetry well."
Suggestions for poets writing in their mother tongue:
1. All language uses metaphors and euphemisms to express erotic or taboo topics. Perhaps a whole poem can be made up of metaphors and euphemisms!? Include idioms, proverbs and other figures of speech for added subtlety in your poem.
2. Remove common clichés. Give the freshest version of your language and trust the reader to understand.
3. Explore the whole canon of literature published in your language if you can. Popular African languages can hold their own against English. Xitsonga, Siswati, isiXhosa, isiZulu, isiNdebele, Sepedi, Sesotho and Setswana were developed continuously. Their rich orthographies enhance everyday use.
4. Find the luminaries who produced earlier and richer works that introduce earlier versions of words and the subsequent evolving linguistic incarnations. This will help you to develop your own voice and style. In Nguni they say '
indlela ibuzwa kwabaphambili
' (a way is asked from those that travelled before) while in Sesotho they say '
mahlaku a maswa a tsoga ka a matala
' (the youth stand on the shoulders of the old).
5. Don't get stuck in elitist formal conventions. Form is useful but restrictive, often creating a high wall to entry or subtle gatekeeping. This makes a haiku or sonnet look like the ultimate poetic form but doesn't help to grow the genre.
6. Let the music in. While poetic conventions and best standards vary according to the language, most African indigenous poetry originated from praise and is essentially lyrical. Whether celebrating a newborn, the newly wedded, a hero, or mourning a deceased loved one or a traditional leader, these poems are strongly musical, with an inclination to break into song.
7. Correct spelling and grammar (as prescribed by the orthography of that language) are non-negotiable.
8. Poetry must be durable and rigorous to retain relevance. One can't use fleeting language and expect the poem to mean something five or fifty years later.
Language is the aesthetic convention that appeals most to Mashego: "Language is a knife – the cutting edge of a poem. It is as sharp as the poet's ability to use it. Language is embedded in our genetic wiring. Our first words, our vocal expressions of happiness, pain and satisfaction are all expressed in our mother tongue. Mother tongue is also the language of dreams."
Mashego posits that language connects us directly with our ancestors who developed the medium of communication over millennia. From an African world view, ancestors transmit messages via dreams in the language they helped to create. "When the ancestors need to communicate with the living, they will do so in the only language they know. By keeping your language alive, you will be familiar with the language of the messenger and receptive to its content. By writing and studying your own language you keep your inherited genetic language decoder attuned. If you do not keep it activated, how will you be able to read the encrypted signals?"
In conclusion Mashego says, "Writing in your mother tongue is the only justice you can do for yourself and your brood. No nation ever achieved greatness in a foreign language."
The AVBOB Poetry Project welcomes new and established voices in all 11 official languages and ensures that suitably qualified mother tongue judges assess each entry. The competition reopens on 1 August 2022 and all poets are welcome to register in advance on the website:
www.avbobpoetry.co.za
Share: