Blog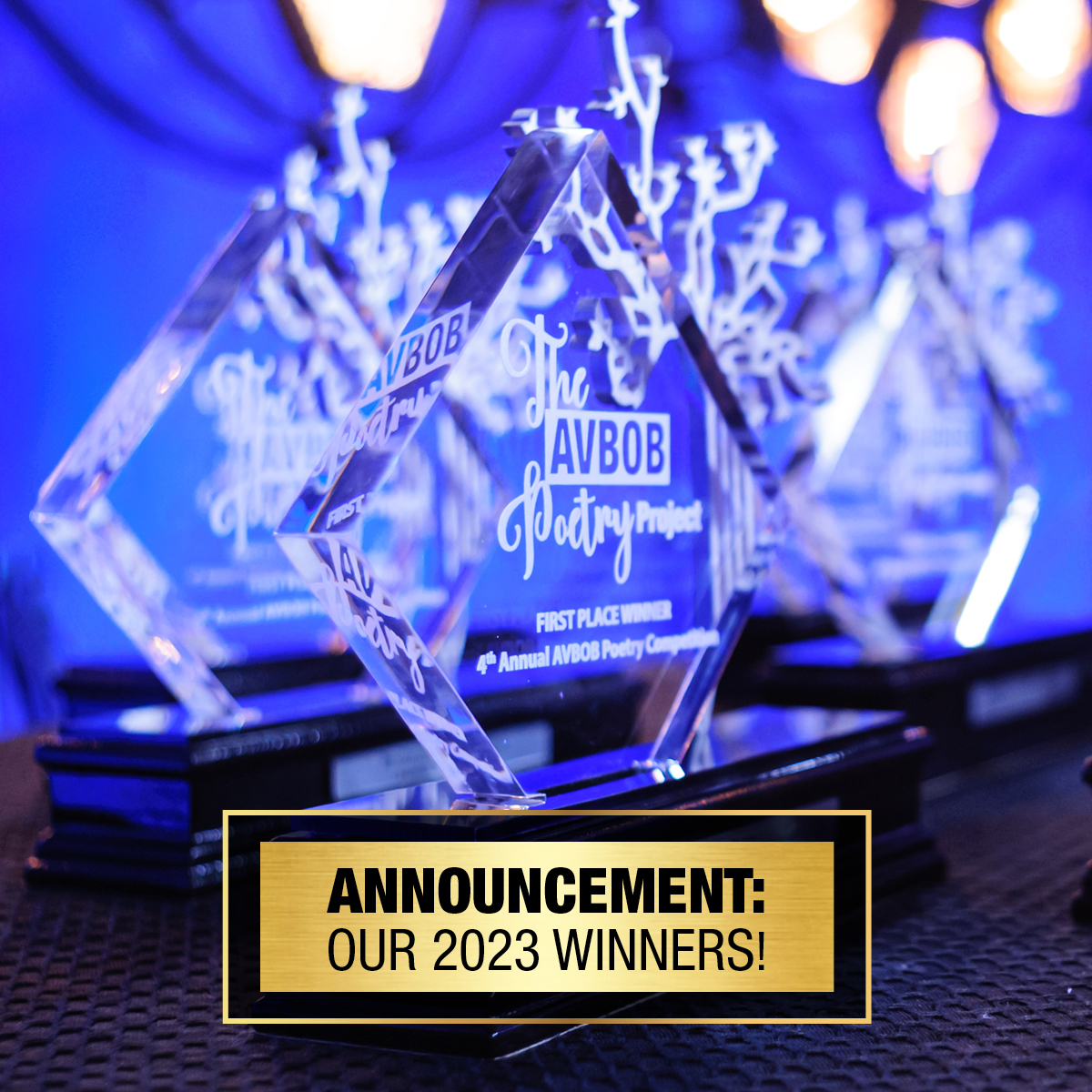 THE 2023 AVBOB POETRY COMPETITION: CELEBRATING SOUTH AFRICA'S POETIC HERITAGE

Tue, 19 September 2023
Eleven winners of the 2023
AVBOB
Poetry Competition (one for each of South Africa's official languages) were announced at a sparkling gala award ceremony at Pretoria Country Club on Wednesday evening, 20 September 2023.
AVBOB
CEO Carl van der Riet delivered the keynote address in which he described poetry as a healing place where we find comfort and consolation; renewal and encouragement. "As we honour Heritage Day on 24 September, we celebrate South Africa's rich and varied poetic traditions. We are particularly proud of how the
AVBOB
Poetry Competition contributes to and enriches our country's cultural heritage in all 11 official languages," he noted.
"From the start, poets have been encouraged to submit work in their mother tongue. We are delighted to see that 55% of all poems entered this year were written in South Africa's vernacular languages," Van der Riet shared. He added that the
AVBOB
Poetry Library now contains nearly 21 000 poems, each of which earned its author a usage fee of R300. This represents an investment of more than R6.2 million in usage fees supporting South African poets since the competition commenced in 2017.
The winner in each language category of
AVBOB
Poetry Competition received a R10 000 cash prize, a R2 500 book voucher, and an elegant trophy. Each guest also received a copy of the annual anthology,
I wish I'd said… Vol. 6,
which was launched at the event. The top six poems in each language appear in the anthology (each with an English translation).
A selection of commissioned poems and six Khoisan texts from the Bleek and Lloyd collection round out the anthology. This comprehensive collection was compiled by Editor-in-Chief of the
AVBOB
Poetry Competition, Johann de Lange, and the Tshivenda Editor for the competition, Agnes Mawela.
According to De Lange, "Poetry addresses the universal struggle to find meaning and purpose in our darkest hours. The
AVBOB
Poetry Competition inspires poets to reach deep inside themselves to find words that keep hope alive. Fostering the poetry community helps people find encouragement and camaraderie in the reading and writing of this vital and life-affirming art form."
Attendees were entertained by talented vocal sextet,
Just 6
. Their fascinating combination of unaccompanied voices created a distinct and vibrant sound, fusing indigenous African sounds with original harmonies. Their joyful energy set the tone for the event's glamorous emcee, Bolele Polisa, to introduce each winner.
In alphabetical order of language category, the 2023
AVBOB
Poetry Prize (1
st
place) winners are: Natalie Goetsch (Afrikaans), Lethube Hellen Phaladi (English), Nkululeko Mthembu (isiNdebele), Siphosakhe Gogo(isiXhosa), Zimkhitha Mbhele (isiZulu), Mahlogonolo Shilela Masehla (Sepedi), Brian Makara (Sesotho), Mosimanegape Jasone (Setswana), Prisca Nkosi (Siswati), Rokunda Mulovhedzi (Tshivenḓa) and Bongani Hlungwani (Xitsonga).
To order
I Wish I'd Said… Vol.6
SMS the word 'POEM' to 48423 (at a standard cost of R1.50 per SMS) to have it posted to you at a total cost of R240. Alternatively, email your order to
tertia@naledi.co.za
or find it at selected bookstores.
Visit
www.avbobpoetry.co.za
to access the AVBOB Poetry library and to register for the 2024 AVBOB Poetry Competition (which closes on 30 November 2023).
In alphabetical order of language category, the
2023 AVBOB Poetry Competition
winners are:
Afrikaans winner
Name: Natalie Goetsch
Poem: Jaareind
Runners-up
2nd place
3rd place
4th place
5th place
6th place
Poet
Wilmarie Pekeur
Ian de Beer
Jaomi Zeeman
Jacques Boshoff
Gerhard Barkhuizen
Poem
Onder die invloed van die dood
In absentia
Diepsee in (vir Oom Willem)
Boodskapper
Oom Neels
English winner
Name: Lethube Hellen Phaladi
Poem: Shai, Isaac Shai
Runners-up
2nd place
3rd place
4th place
5th place
6th place
Poet
Geoffrey Haresnape
Adre Marshall
Jaco Fouché
David Muirhead
Sanelisiwe Nqashosho
Poem
Tom Southcross – How the Nazarene loved the world
Autumnal
Train of thought
The triple rainbow
Rooted: The grounding
isiNdebele winner
Name: Nkululeko Mthembu
Poem: Angeze angiliselela
Runners-up
2nd place
3rd place
4th place
5th place
6th place
Poet
NP Sikhosana
Thobile Skosana
Da Poet Nkanyiso
Musa Machabe
Nozipho F Sikhosana
Poem
Ngisale ngibambe uboya bentenetjha
Lirhabe latjhinga
Usesenawe nagadesi
Ungazilahli iinkhali zokuthumba
Iinhlungu zizokutjhuguluka zibe ziimbusiso
isiXhosa winner
Name: Siphosakhe Gogo
Poem: Eluthulini
Runners-up
2nd place
3rd place
4th place
5th place
6th place
Poet
Anelisa Thengimfene
Siwaphiwe Fortune 'Spurz' Shweni
Ayanda Chris Mntwapi
Elona Ramente
Athi Simamkele Dyantyi
Poem
Intswelangqesho
Ingoma
yengcwaba
Hamb'uhambe, Khorona!
Ukuzibulala
Halala maqobokazana!
isiZulu winner
Name: Zimkhitha Mbhele
Poem: Lwephukile udondolo kwamnyama
Runners-up
2nd place
3rd place
4th place
5th place
6th place
Poet
Yolanda Zungu
Delisile Mbatha
Thokozonke Mbatha
Sibusiso Zwane
Mlungisi Shabalala
Poem
Ubeyisihlangu esimagabelo
Wahamba amalombo
Isililo sikazamcolo
Inkunzi ematshezulu
Mntanami
Sepedi winner
Name: Mahlogonolo Shilela Masehla
Poem: Lengwalo la Malome Motšhabagabo
Runners-up
2nd place
3rd place
4th place
5th place
6th place
Poet
Mosima Phakane
Tshepiso Makgoloane
Matebane Oscar Nkogatsi
Dineo Kekana
Lucia Monama
Poem
Hlanola direthe
Re a le bona
Ke tsene ke homotše
Meokgo ya mma waka
O kae bjale?
Sesotho winner
Name: Brian Makara
Poem: Letsoho
Runners-up
2nd place
3rd place
4th place
5th place
6th place
Poet
Rethabile Molibeli
Elia Msimanga
Thabo Molefi
Lesitsi Ligunya
Tlhokomelo Khusu
Poem
Moratuwa
Ke hloka lentswe leo
Mme waka
Fela sa lerato
Tlhokomelo
Setswana winner
Name: Mosimanegape Jasone
Poem: Loso
Runners-up
2nd place
3rd place
4th place
5th place
6th place
Poet
Othusitse Moses Lobelo
Ontiretse Lentotwane
Dineo Ntwayagae
Balekane Frank Mogale
Bongani Tlholatlung
Poem
Motlholagadi
Kopo ya lenyalo
Barutabana
Dumela
Kgorogo
Siswati winner
Name: Prisca Nkosi
Poem: Tinyembeti
Runners-up
2nd place
3rd place
4th place
5th place
6th place
Poet
Zenani Mooi Muinga
Naledi Mgwenya
Nelisiwe Jele
Zodwa Thumbathi
Tafadzwa Sithembile Ngobe
Poem
Akusibo budvodza kushaya umfati
Kujutjwa ticu temtimba tentiw'imitsi?
Inhlavu yelilanga
Matekuletjeni
Linamuhla kusasa litawuba ngumlandvo
Tshivenḓa winner
Name: Rokunda Mulovhedzi
Poem: Gundo ndi ḽaṋu
Runners-up
2nd place
3rd place
4th place
5th place
6th place
Poet
Rudzani Neluheni
Livhuwani Phyllis Muofhe
Ronewa Khangale
Shane Rashaka
Jeremiah Neluvhalani
Poem
Iwe, Lufu
Tshilikadzi
Ni ḓo nnḓivha lufuni
Iwe mufu
Vho u rema uḽa muri
Xitsonga winner
Name: Bongani Hlungwani
Poem: Mbewulani
Runners-up
2nd place
3rd place
4th place
5th place
6th place
Poet
Mufundhisi Thomas Mthombeni
G Mchavi
Millicent Malatswane
Vukosi Mugaza Hlungwani
Brenley Sengen Ngoveni
Poem
Nkelunkelu
Xivumbiwa xo xonga
Hi tekile rendzo
Ka tsokombela eKanana
Ndlela yo hola
WINNING POET PROFILES: 2023 AVBOB Poetry Competition
Afrikaans 1st place: Natalie Goetsch
Natalie Goetsch is a high school English teacher from Pretoria. She became entranced by poetry as a 10-year-old paging through an anthology on her mother's bookshelf. Her discovery of the difference between children's verse and poetry sparked a lifelong love affair with poetry. She wrote her first poem soon thereafter, in response to the landscape of the Kalahari Gemsbok Park.
Natalie entered the
AVBOB
Poetry Competition because she believes dreams only become reality by taking action and taking a chance. This was her first shot at a poetry competition.
Her poem
Jaareind
came to her while invigilating final exams as she walked up and down between the rows of desks. The beautiful gardens and avenue and the quiet morning welled up in her heart and a poem just happened. A blacksmith plover flew up and called out at the girls walking past. Natalie repeated the lines over and over to herself for the 90 minutes of the exam. This is why the poem is so compact and uncomplicated. It was memorised before she had the chance to write it down!
English 1st place: Lethube Hellen Phaladi
Lethube Hellen Phaladi from Mamelodi is a poet and short story writer who loves life. She came to creative writing when Mr Thibane, her drama teacher at Thete High School, encouraged her to put her thoughts and feelings onto the page.
Her work has been published in
Stanzas
and
New Coin
. Lethube is the second of four girls whose single mother was a teacher. "My mother died when I was just 13, and, so, I was raised by everybody. That experience informs my poetry and gives me a way of grieving that loss. I write about the void she left," says Lethube. After a career as a nurse, she aims to become a writer while juggling the responsibilities of motherhood to her own two daughters. She entered the
AVBOB
Poetry Competition to advance that dream.
isiNdebele 1st place: Nkululeko Mthembu
Originally from Mpumalanga, Nkululeko Mthembu now lives in Pietermaritzburg where he works in a food manufacturing factory. He was inspired by the poetry of isiNdebele poet, Zamokwakhe Mkhize, and decided to add his own unique voice to the body of poets in his language. "I was weak and feeling lonely. Things were upside down in my life. But, knowing that God was on my side, I wrote this poem to revive my soul ," he says.
This prestigious public acknowledgement has inspired him to prepare to publish his first poetry collection in his mother tongue. Nkululeko thanks
AVBOB
for helping young poets, regardless of where they come from, recognise the importance of all South African languages.
isiXhosa 1st place: Siphosakhe Gogo
Siphosakhe Gogo comes from the small town of Ntabankulu in the Eastern Cape and is now based in Durban, where he works as a security officer. According to Siphosakhe, "I read about the
AVBOB
Poetry Competition on Facebook, and I was willing to try my luck!"
"In South Africa, a lot of talent is groomed and harnessed from the dust of poverty-stricken communities," he says. "Yet, despite that, we rise to international stardom. My poem,
Eluthulini
translates as 'from the dust', and, so, I will never give up. I know that one day I will be the best poet."
isiZulu 1st place: Zimkhitha Mbhele
Zimkhitha Mbhele comes from the rural area of Ngodini near Eshowe in KwaZulu-Natal. While unemployed and seeking job opportunities, she wanted to showcase her talent for words in her mother tongue. She writes primarily in isiZulu and her poem's inspiration came from observing an extraordinary widower in her community. He was left to care for several young children. "When their mother died, he supported his kids without complaint. He dressed and fed them, and accompanied them to school. All his life, he gave them the love they needed and the care they deserved. I hope this poem inspires other fathers to rise to the challenge of being a good father."
She began writing poetry 10 years ago and tonight's win is the best response to the naysayers who mocked her creative efforts and told her she was wasting her time!
Sepedi 1st place: Mahlogonolo Shilela Masehla
Mahlogonolo Shilela Masehla comes from Ga-Sekhukhune, Limpopo where she is a high school educator. She entered the competition hoping to offer comfort to those who have lost hope after the death of a loved one. She first learned about the
AVBOB
Poetry Competition after her brother passed away in 2019. "My primary motivation was not about winning but about offering words of consolation to others who are grieving because I found great comfort from the poems in the
AVBOB
Poetry Library," she explains.
She adds, "Growing up, I witnessed men abandoning their families and children to go and stay in the cities. My poem is a letter of apology written by a man who has abandoned his family. His nephew reads it to his family when he is brought home without any money to bury him."
Mahlogonolo began writing poetry in high school, and her debut poetry collection in Sepedi,
Maratagošilwa
was published by Graceworx in 2021.
Sesotho 1st place: Brian Makara
Brian Makara comes from Ladybrand in the Free State where he presents news and sport on community radio station, Mantsopa FM, and volunteers for the local community policing forum. He is a self-published author who has studied literature online. He shares his passion for educating the youth through his poems and novelettes, which give people something to think about. He entered the
AVBOB
Poetry Competition to express his feelings about what is happening in the world. "When a local community member was murdered, it broke my heart, so I wrote my poem
Letsoho
.
Brian also writes plays for theatre and radio and loves learning new things about literature. He began writing poetry in 2018 and writes to make his late mother proud in heaven.
Setswana 1st place: Mosimanegape Jeremia Jasone
Mosimanegape Jeremia Jasone is from Manthe Village near Taung in North West. He is an enthusiastic spoken word poet and author. He began his poetry career as a scholar at Moshosho Primary School in 2002 and matriculated from Walter Letsie High School. He participates in any literary event or gathering he can attend.
Mosimanegape was chosen as the presidential praise singer for the 2022 State of the Nation address before Parliament. This significant honour has made a lasting impression on his life.
Mosimanegape is currently unemployed and, while seeking employment, he entered the
AVBOB
Poetry Competition because, as he says, "I love poetry, I do constant research about my culture, and I want to write about it. I am a curious person and poetry helps me to express myself." His poem
Loso
reflects on the COVID-19 pandemic and the hardships people suffered.
Siswati 1st place: Nomvula Prisca Nkosi
Nomvula Prisca Nkosi has done it again! This is the second year that she has won the
AVBOB
Poetry Prize in Siswati for her powerful and articulate voice.
Prisca hails from Syde, in rural Mpumalanga, where she was raised by her grandmother who encouraged her to write poetry and now takes immense delight in Prisca's achievements. She trained in occupational health and safety and lives and works in Mkhondo.
"I'm always hungry to gain more writing skills," says Prisca, who attended and enjoyed the
AVBOB
Poetry online workshops. "That was a great platform for me to learn. I discovered that each line of the poem must speak to the reader, inviting their curiosity about what is going on in the poem."
Her poem
Tinyembeti
aims to restore hope to people who are lost. "I wanted them to know that tears are prayers too," she says. "Writing can heal, comfort, encourage and restore hope. As a writer, I become the voice of those who can't speak for themselves out of fear. By participating in the
AVBOB
Poetry Competition, I can reach and console many people."
Our Tshivenda winner did not supply a profile ahead of the AVBOB Poetry Gala.
Xitsonga 1st place: Bongani Hlungwani
Bongani Thomas Hlungwani was born to a large family and raised by both his parents in a small rural town near Giyani in Limpopo. His love of poetry began in primary school. After school each day, he worked as a herd boy, minding his father's cattle. Now he's looking for greener pastures in Johannesburg.
Entering the
AVBOB
Poetry Competition was a first for him, but he knew he had to give the world his personal version of life. His poem
Mbewulani
was inspired by the way swallows succeed in always avoiding winter. They flit from region to region, remaining in a summer climate where they are always comfortable and food is plentiful. Unfortunately for humans, our hearts do not move on as easily after heartbreak. Many people dwell on their pain, which leads to mental health issues. Bongani's poem is a beautiful invocation to the swallow, praying that it will teach his heart to move on when the weather grows cold.
Share: