Blog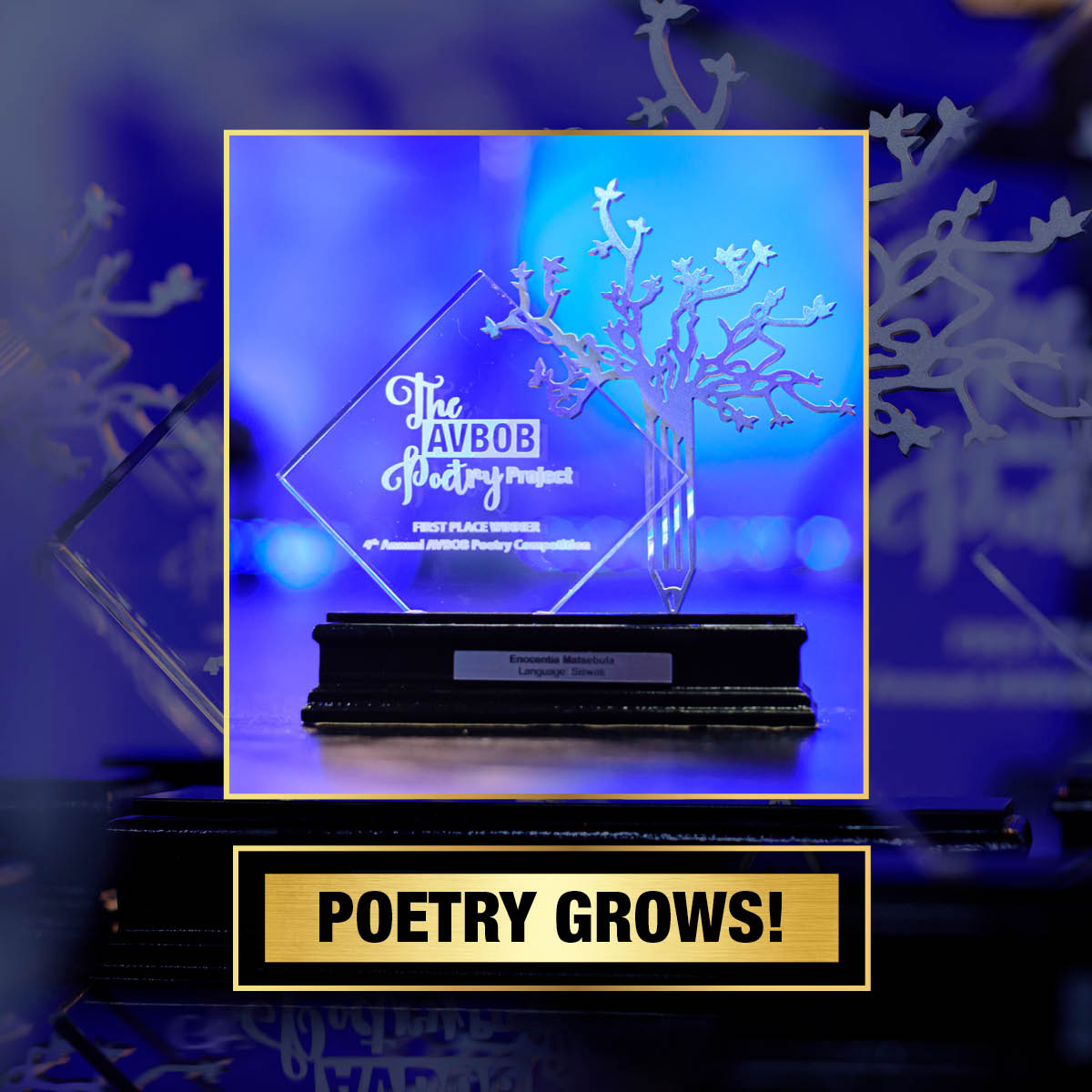 Poetry growth in South Africa as annual competition closes

Fri, 16 December 2022
From ages 10 to 97, South African poets are having their say! "This is a healthy sign, and the AVBOB Poetry Project is proud to have created a platform like no other," said AVBOB CEO, Carl van der Riet. "Promoting mental health and building community are key aspects of the AVBOB Poetry Competition, which attracted more than 6 000 new poets this year."
A prize of R10 000 is awarded to one poet in each of the 11 official language categories, and the winning poems are published in an annual anthology. Winners will be announced at the prize giving event in 2023, when the anthology
I wish I'd said… Vol.6
will be launched simultaneously.
Six years ago, the originators of the competition dreamed that perhaps a few hundred entries might arrive. In 2022, a total of 31 492 poems were submitted for consideration before the competition closed, and 2 981 new poems were added to the online
AVBOB Poetry Library
(which now contains 19 931 hand-selected poems in all of South Africa's 11 official languages) . This free public resource offers words of consolation and comfort for use at memorials, funerals, or other community events where motivating and uplifting words are needed for hope and healing.
"The growth of entries represents a consistent upward trend that augurs well on a number of levels," said Editor-in-Chief, Johann de Lange. "According to an
American Academy of Pediatrics study in 2021
, a poetry intervention demonstrated improved emotional wellbeing in hospitalised children. Anecdotal reports during the AVBOB Poetry Project's online workshops support this finding. More than 600 participants participated in the series of six workshops designed to help new poets navigate the unfamiliar terrain. They described how writing poetry improved their mood and focus and reduced a sense of isolation from the world at large."
The youngest entrant this year was Tshivenḓa poet Thabelo Tshavhuyo (10), whose poem '
Lufuno
' was published in the AVBOB Poetry Library. This earned the poet a usage fee of R300.
As all 11 judges wrap up their reviews of this year's submissions, some encouraging trends can be seen. The oldest poet to have an entry published was Lahliwe Mkhize at 85 years young! Once again, the quality of work by youth poets is heart-warming. Some 67% of all poets which entered in 2022 are aged 30 and under, and 18% of all poets who entered had at least one poem selected for publication.
"This year, the number of mother-tongue poems increased again, with significant increase in the number of poems submitted in isiNdebele and Afrikaans," De Lange continued. "We are creating a growing community of poets and readers, broadening the conversation across languages and generations. Enabling and facilitating poetic expression is a way of promoting mental health."
In 2022, the AVBOB Poetry Project also launched a series of highly successful online workshops, aimed at sharing and developing skills. Hosted by poetry teacher Liesl Jobson, six leading poets and poetry publishers covered a broad variety of topics. Educational articles and interviews with poets appeared regularly on the
AVBOB Poetry Blog
and social media to encourage and support poets.
Van der Riet commented, "I'm heartily encouraged to see that 55% of all entered poems were written in South Africa's indigenous languages. It has always been our goal to support and create a multilingual community and to ensure that winning poems in all languages are available in translation."
The opening stanza of Christine Coates' poem '
We'll go on
' neatly expresses how the challenges of life can grow into a thing of beauty, and how the benefits of a poetry competition can emerge and continue over time:
We'll go on like this –
this long road, twisted and gnarled
like a vineyard stokkie –
breaching, breaking off this way
and that.
For more information about the
AVBOB
Poetry Competition, register online at
www.avbobpoetry.co.za
.
Share: